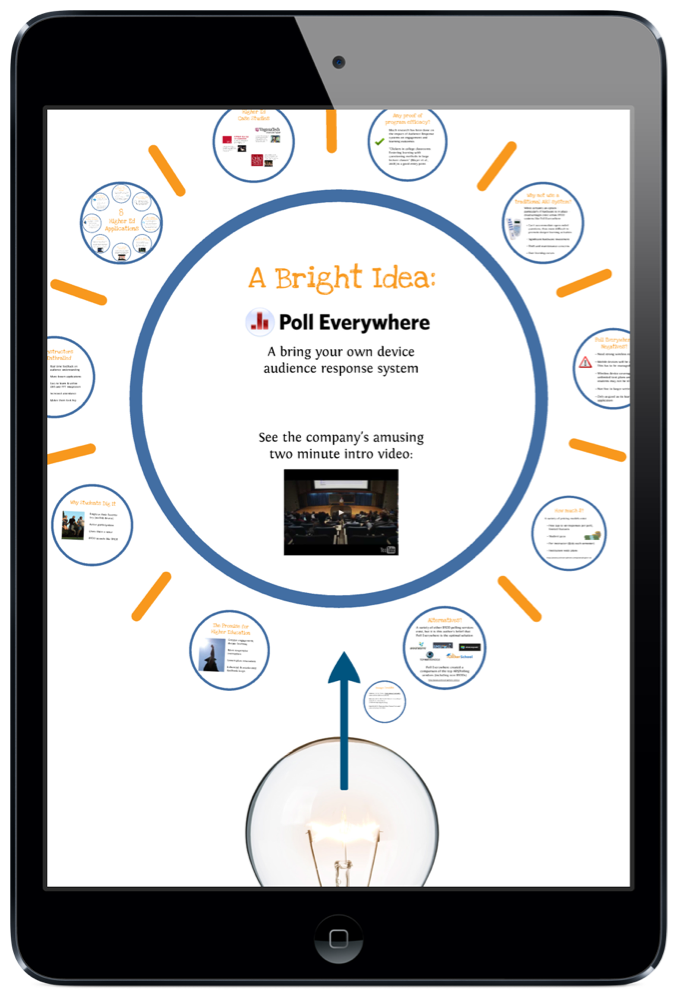 Overview:
A persuasive presentation about how Poll Everywhere (a bring your own device driven student response system) can be used to help flip the higher ed classroom
Work description:
Academic journal research (including development of an annotated bibliography), product research, case study identification and development of next-generation multimedia presentation
Learner target:
Higher ed instructors and administration
Technology employed:
Prezi, Google Scholar, Flickr
Theoretical foundations:
Audience or Student Response Systems (SRS) where "clickers" are used by audience participants to wirelessly respond to instructor posed questions and content have the potential to transform the large college lecture course into a more active learning experience. However, adoption of such systems have historically been limited for a variety of reasons including hardware investment and upkeep, learning curves (both teacher and student), theft, and system limitations (i.e., no open ended questions). But with the advent of mobile communications, near universal penetration of smart phones amongst the student population and the arrival of innovative service providers like Poll Everywhere, the era of Bring Your Own Device based SRS is upon us. For more, explore my annotated bibliography regarding the use of SRS in higher ed.
Also learn about my implementation of Poll Everywhere as a backchannel in a college course setting.