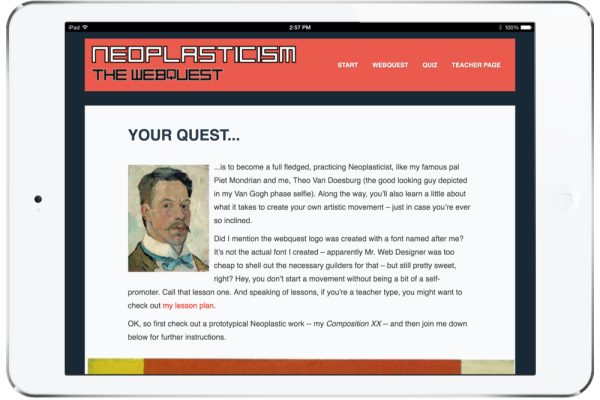 Overview:
This lesson provides learners the chance to understand the tenets of an artistic movement and design their own works. Designing this lesson was vital in helping me find my pedagogical voice. See my Boise State EdTech Masters' program portfolio video. And check out my Neoplastic WebQuest.
Work description:
Designed learner activities, assessments and rubrics and aligned them with visual arts standards. Identified and organized web-based learner resources and created teacher materials. Modified responsive HTML template and wrote narrative (voiced by Neoplasticism founder, Theo van Doesburg).
Learner target:
High school or college level students in an arts or design curriculum
Technology employed:
Dreamweaver, Fireworks, Survey Monkey, DropEvent (e-mail created photo galleries), Mondrimat
Theoretical foundations:
A WebQuest is an online instructional model that stresses inquiry and the use of information. WebQuests require learners to be active participants and demand higher order thinking (e.g., analysis, synthesis & evaluation), thus promoting a deeper level of learning. A WebQuest helps teach/reinforce digital competencies, and by providing all necessary links, remedies the wandering focus issue associated with many web activities. The highly structured nature of the WebQuest (introduction, task, process, evaluation and conclusion) also creates a closed loop of learning, freeing up instructors to focus on content rather than flow and organization. My neoplastic lesson leverages an "In the style of…" WebQuest design pattern. Visit WebQuest.org to learn more.